Top Ten Drone Incidents
Here's our run-down of the top ten list of drone incidents in the last six years.
UPDATE: A day after publishing this article a Houthi drone targeted and killed senior Yemeni military officers at Al Anad Airbase in Yemen.
We've added it to the list here.
Houthis Explode Drone Over Yemeni Army Top Brass
On 10th January 2019 a Houthi drone targeting senior Yemeni military officers exploded over a military base, killing six and wounding twelve.
Video Credit: AFP TV
Video Credit: Yemen-TV
It appears that the drone used in the attack was an Iranian-made Ababil T, which the Houthis use under the name Qasef 1.
This was a sophisticated attack in that the Houthis knew when and where this gathering would happen, and were able to time the attack during a small time window when high-value targets were present.
The exact moment and height of the explosion were deadly accurate.
10. Drone Amuses Merkel at Rally
In September 2013, during a campaign rally in Dresden, a small quadcopter appeared in front of German Chancellor Angela Merkel and the German Defence Minister.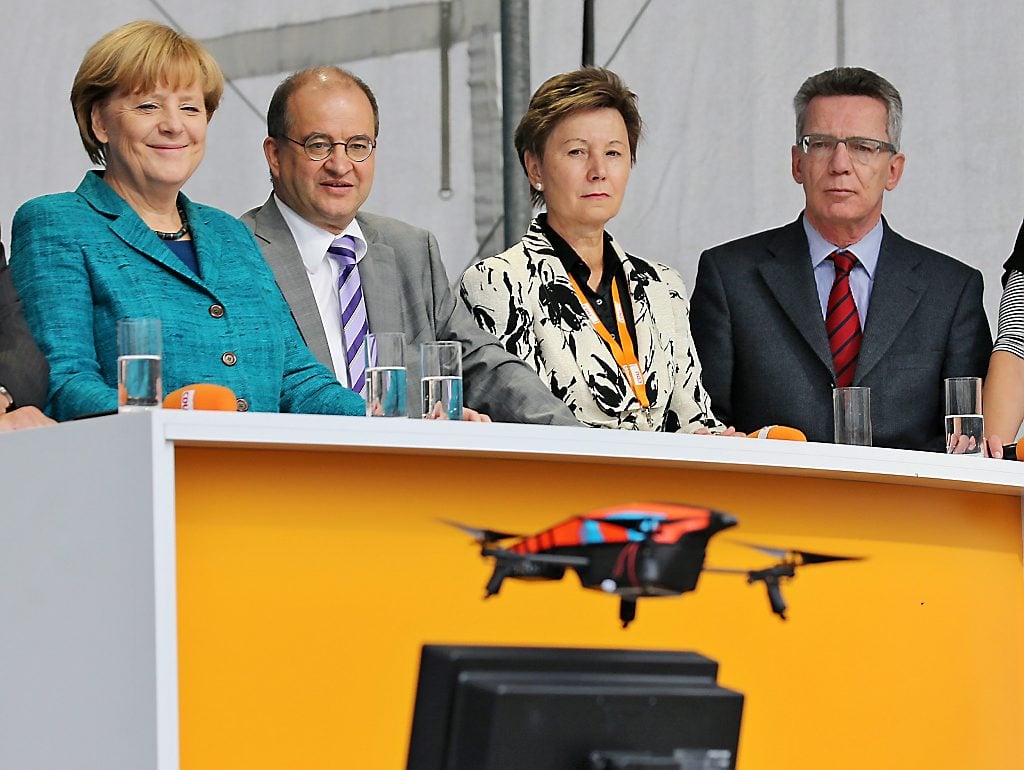 Photo Credit: EPA
It hovered in front of the leaders before crashing into the stage and landing at Merkel's feet.
Merkel appeared bemused during the situation, and even though the Parrot AR drone was flown as a harmless stunt by the German Pirate Party to protest German surveillance programs, many realised how disastrous this incident could have been had the drone been carrying a small explosive.
For many, this is the event that sparked the initial ideas and concepts for counter-drone equipment.
9. Flag-Flying Drone Stunt Causes Football Chaos
In October 2014, during the Serbia v Albania Euro 2016 Qualifier in Belgrade, the potential of drones being used for nefarious purposes was demonstrated once again.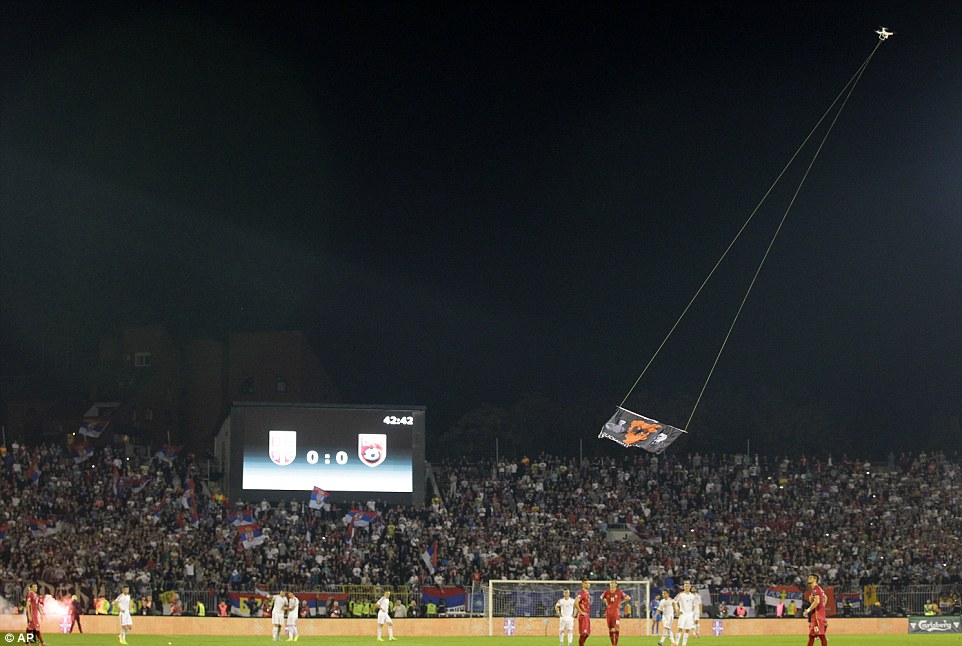 Photo Credit: AP
Shortly before half-time, a quadcopter drone carrying an Albanian flag with nationalist text appeared above the pitch. There then followed a pitch invasion where players and fans from both sides clashed. Authorities could not regain control, and the incident developed into a brawl.
The ensuing chaos delayed the game for 30 minutes before they abandoned it altogether.
The offending drone carrying the flag appeared to be a DJI Phantom.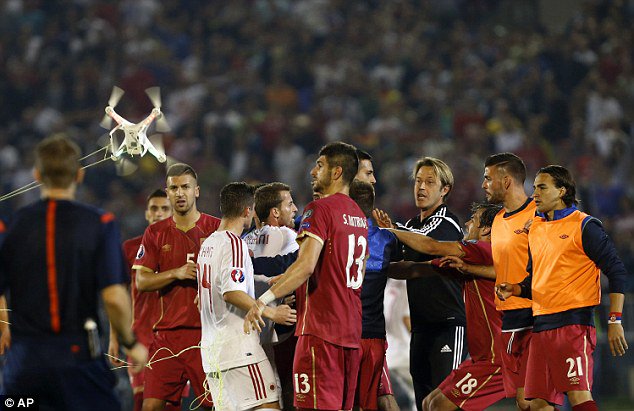 Photo Credit: AP
Together with the Merkel drone event, this was another incident that spurred many of the early counter-drone initiatives on.
8. Drones Crash Land at White House and Sōri Kantei (Japanese Prime Minister's Workplace & Residence)
In January 2015 a DJI Phantom 2 flew over the White House fence and crashed into a tree before coming to rest on the South Lawn.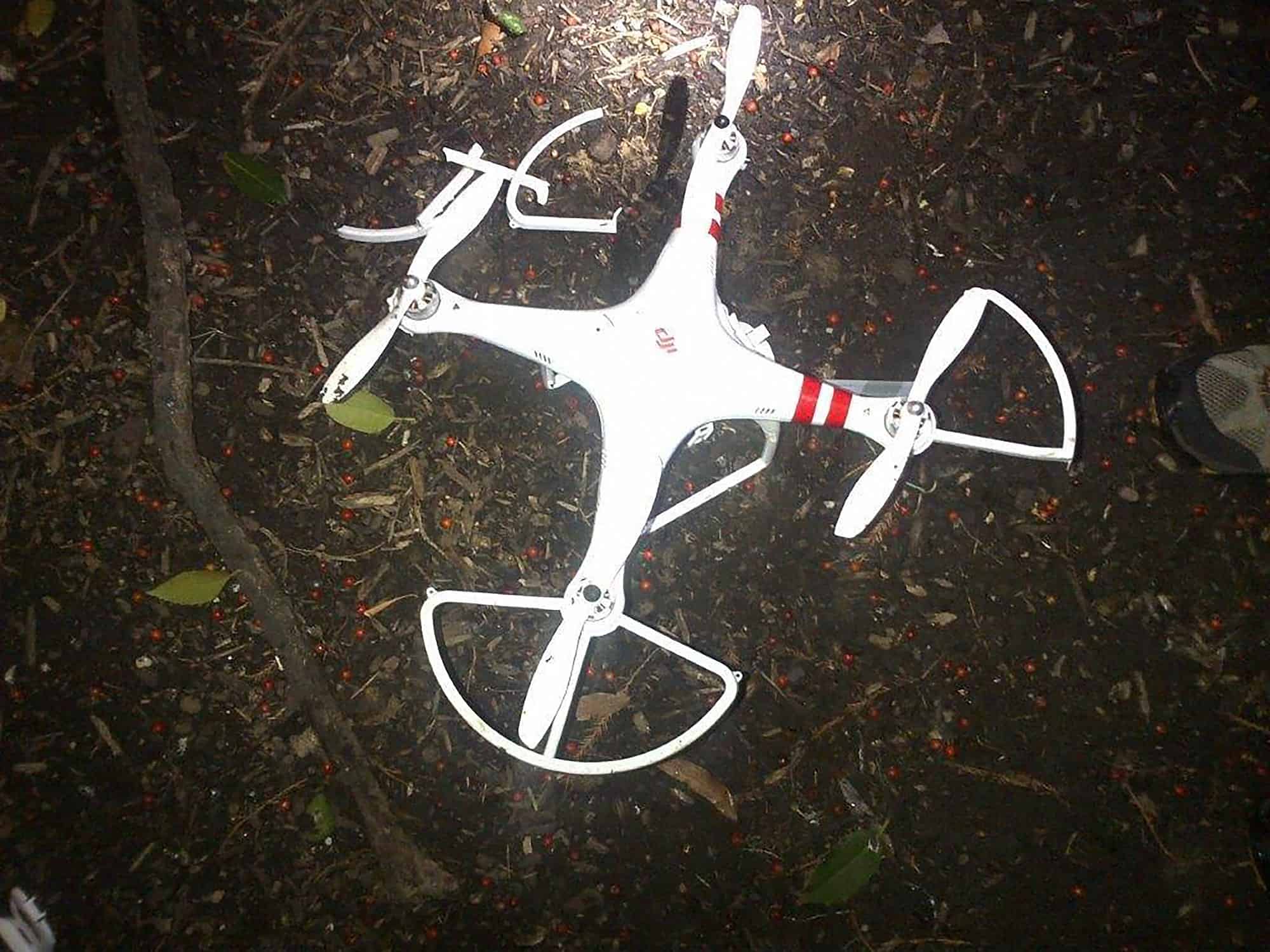 Photo Credit: US Secret Service
Although the incident occurred at three in the morning, it turned out to be a seemingly innocent mistake, and the individual wasn't charged.
The White House radar system didn't detect the small drone, and so the incident raised the obvious question as to how the Secret Service could stop a similar drone with bad intentions in the future.
The simple answer was that they couldn't.
Also in 2015, another DJI Phantom 2 crash-landed on the Japanese Prime Minister's residence.
This time it was intentional.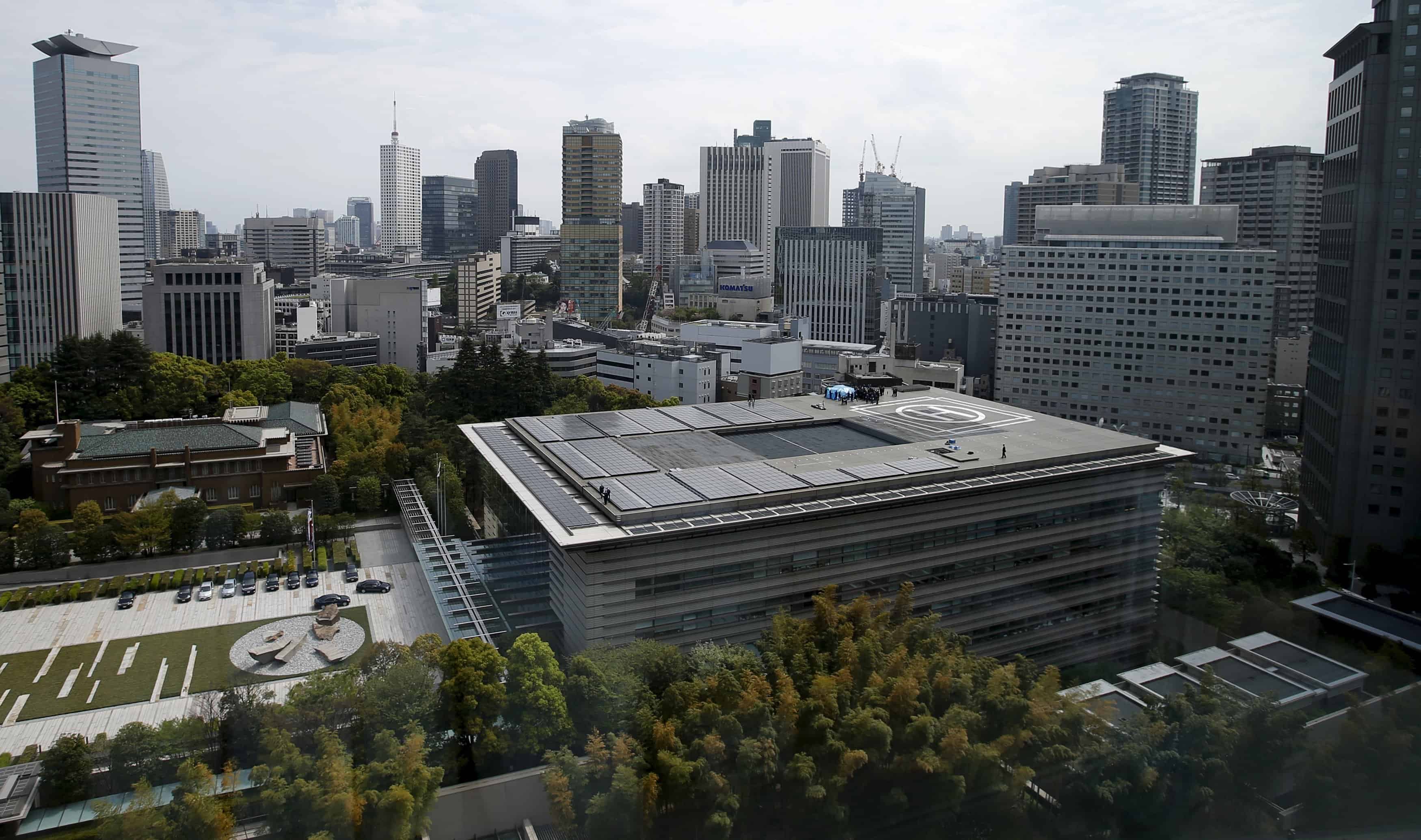 Photo Credit: Reuters / Toru Hanai
And the drone was radioactive.
It was flown by an anti-nuclear protestor who painted the white drone and its LEDs black and finished it off with a nice big radiation symbol sticker. You know, seeing as it was carrying sand from the Fukushima nuclear disaster site.
The operator intended to fly it in front of the Prime Minister's office, but he lost control and crashed it onto the roof. The drone wasn't found until over a week later.
In reaction to the incident, wide-reaching changes to regulations and new laws on drones were introduced in Japan, and the national police requested 400M Yen (3.2M Euros) for counter-drone measures.
7. Drone in Near-Miss with Passenger Plane Taking Off From Mauritius Island
Check out this footage from a Parrot ANAFI drone filming a United Emirates A380 flight taking off from Mauritius Island.
Do not try this at home, kids.
Video Credit: Amazing Info TV
Now, DJI has installed (virtual) geofencing around this airport to stop DJI drones from being able to fly there. And yes, this was a Parrot drone which does not have geofencing. But even so, the DJI geofencing doesn't extend to where this drone was flying. It's tightly focused on the airport itself. So it probably wouldn't have helped even with a DJI drone.
Based on the video footage, it looks like the drone and the aircraft came within around 60m of each other.
And here's a fun fact; the Airbus A380 carries anywhere between 555 to 853 passengers.
Need I explain more?
6. Drone Dive Bombs Landing Passenger Plane in Las Vegas
In all the near-misses reported here, this one takes the prize for most reckless.
The drone operator appears to fly directly into the path of the Frontier Airlines Airbus on final approach to McCarran Airport.
In an apparent dive-bomb type manoeuvre!
Video Credit: Drone U and KTNV
While this probably wasn't an intentionally hostile move, it's certainly an alarming and totally reckless video.
5. Drone in Near-Miss with Helicopter in Florida
This has to be the nearest near-miss we've seen yet. Someone is flying their DJI Mavic just off the coast at South Hollywood Beach in Florida, USA.
At first hovering, the drone turns then flies south above the coastline.
At that moment a Bell 407 helicopter is also flying above the coastline. Northwards.
As you'll see from the video, the two aircraft fly toward each other at high speed and look certain to collide.
Video Credit: CBS Miami
Thankfully, the helicopter passes directly under the drone, narrowly missing by a metre or two.
While the drone pilot claimed to be flying legally and no higher than 400ft altitude. He admitted to controlling the drone from a few thousand feet away. That's not within line of sight, as is required. Had he been near the drone he was controlling he probably would have heard and seen the helicopter and taken avoiding action.
As it happened, no avoiding action was taken by either the drone operator or the helicopter pilot.
It also appears that the drone was flying within the controlled airspace around Fort Lauderdale Airport.
Regulations aren't the answer to everything, but it seems they're there for a reason, folks!
4. ISIS Grenade-Dropping Drones
In 2016 and 2017 reports from Iraq and Syria were that ISIS was using commercial drones to drop explosives.
Many of the drones in those reports look like DJI Phantoms or Phantom copies. And they were modified to release grenades over targets to devastating effect.
Video Credit: CBS News
Another effective use of ISIS drones was for coordinating (and recording for propaganda) suicide bomb attacks. And they were also effectively used as forward observing tools to coordinate and correct indirect fire from rockets, artillery and mortars.
ISIS called on its followers to make similar attacks around the world. Until now, it's yet to happen...
3. Drone Swarm Attacks Russian Airbase
In January 2018 reports came out about a drone swarm which had bombed a Russian Airbase in Syria.
No significant damage was reported, but the attack is significant in that this was the first ever drone swarm attack, and it was reported that the 13 drones were pre-programmed with target coordinates and flew autonomously from a launch site 50km away.
The fixed-wing drones armed with modified grenades were mostly stopped; either shot down or jammed.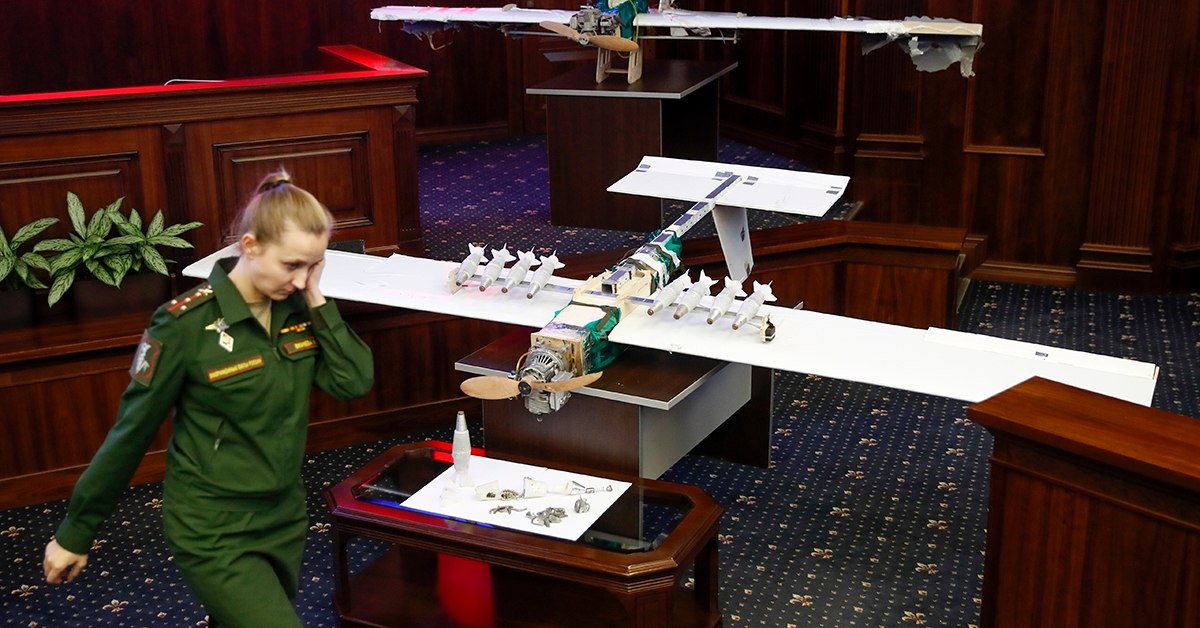 Photo Credit: Pavel Golovkin/AP
Several of the homemade looking drones were recovered relatively intact.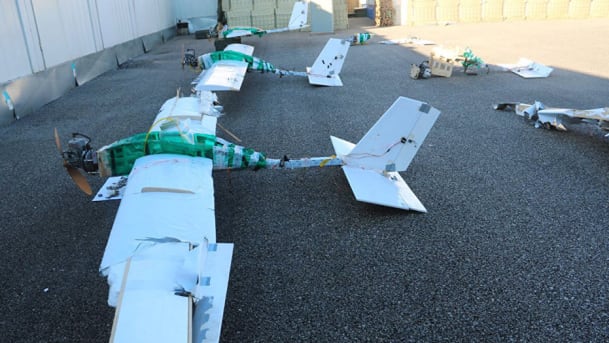 Photo Credit: Russian Defence Ministry
2. Maduro Drone Attack
On 4th August 2018, there was a widely reported, and somewhat controversial, assassination attempt on President Maduro in Caracas, Venezuela. This was the first reported assassination of its type; assassination by drone.
Evidently, at least two drones, thought to be DJI Matrice 600's, detonated explosives. One exploded near to President Maduro during a speech he was giving to commemorate the Bolivarian National Guard's 81st anniversary.
The other apparent explosion was two blocks away, outside an apartment building. Neither harmed their intended target although different sources reported that seven or eight National Guardsmen were hospitalised.
Video Credit: New York Times
The attack is controversial because some claim the assassination attempt to be a false flag operation intended to justify Maduro's repression of the opposition in Venezuela.
Whether the attack was real or staged, the threat of drones detonating explosives in a coordinated and targeted manner was well demonstrated in this event.
It seems all the government could do is watch the attack unfold and try to shield their president with protective mats. And that doesn't bode well for similar future attacks.
Check out Bellingcat's investigation into the alleged assassination attempt.
1. Gatwick Drone Disruption
On the 19th of December 2018, several drone sightings at Gatwick Airport in the UK resulted in the runway being closed and causing major disruption.
The airport didn't fully open again until 21st December with 1000 flights cancelled, delayed or diverted and 140,000 passengers affected. The cost of the disruption has been estimated as anywhere between tens to hundreds of millions of pounds.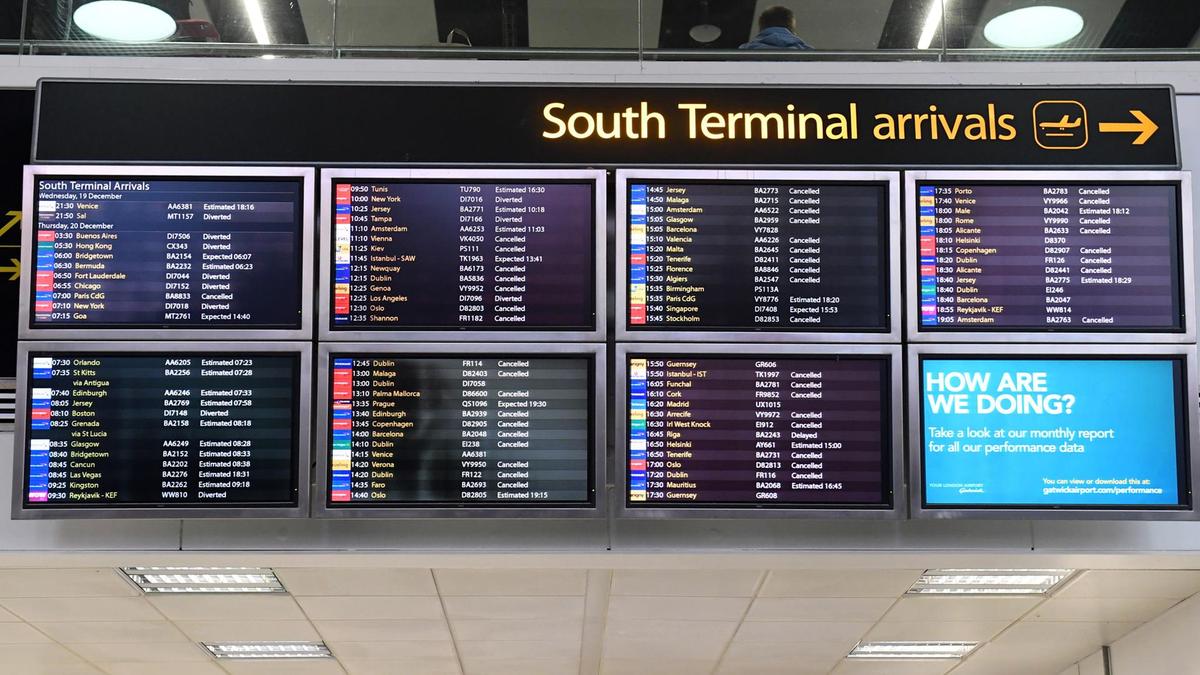 Photo Credit: EPA
At least 93 drone sightings were described by police as credible, with eyewitnesses talking about having seen a sizeable industrial drone.
Police thought the operator(s) of the drones(s) was intentionally disrupting flights at Gatwick as whenever the runway was about to open again, the drone would reappear.
Later there were reports that some drone sightings may have actually been operated by the police themselves.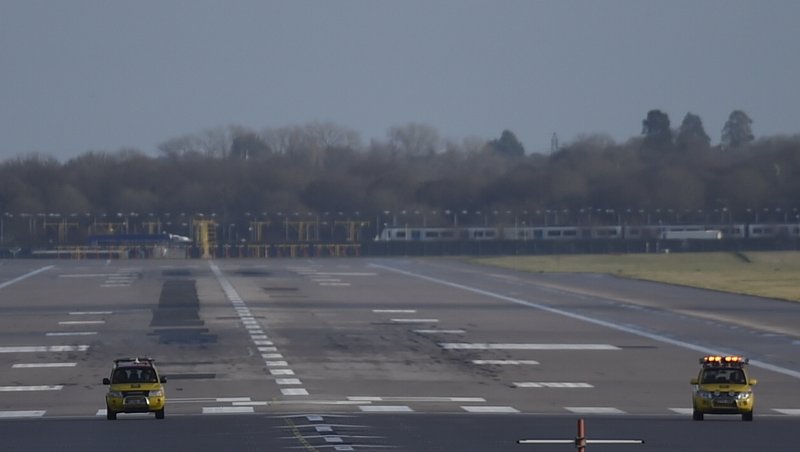 Photo Credit: RTÉ
As Gatwick had no counter-drone equipment installed at the airport, eventually the military was deployed to try to counter the drones. The exact material was not disclosed, nor the results.
It was later reported that Gatwick hurriedly spent £5M on a drone detection system to help prevent further attacks. What equipment that was exactly, was also not disclosed.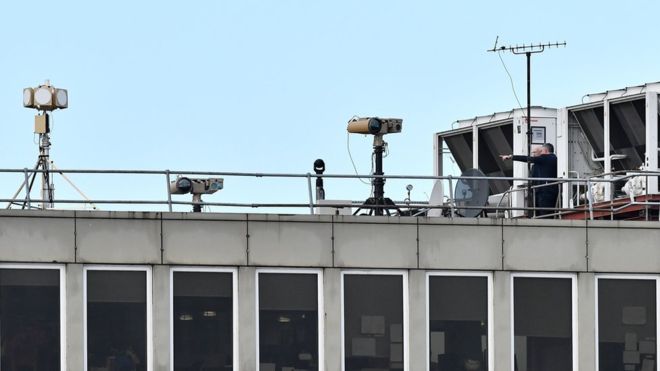 Photo Credit: Getty Images
Coincidentally, three weeks later, a drone sighting at Heathrow Airport briefly caused disruption with some minor delays.
There are several changes in UK law coming, although these were already planned before the Gatwick and Heathrow issues.
For example, it will be illegal to fly a drone within 5km of an airport (was 1km), with the new restriction zone including rectangular extensions from the end of runways. These will measure 5km long by 1km wide to better protect take-off and landing paths.
Drone operators will be obliged to register their drones with the Civil Aviation Authority (CAA) and they will need to complete a safety test.
There is also discussion of police receiving new powers to be able to shoot or otherwise down a drone if there is suspicion of illegal activity.
Out of all the drone incidents described here, and even though nobody was killed or injured, Gatwick was the one which really caught the international media's attention and brought the counter-drone debate into the mainstream.
And that's why it's number one in our top ten.